Dry Type 3 Phase Double Wound Transformer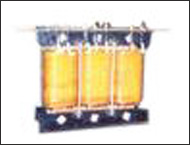 We offer high efficiency 3 PH Dry Type transformer (Three Phase Dry Transformer) up to 200 KVA manufactured from premium quality lamination and electrolytic grade super enamelled/DFGC copper wire.we also offer customization facility based on the size and design of the transformers. Our range of Dry Type Transformers are also offered with cold rolled oriented grain with various accessories such as, earthing terminal and bidirectional wheels with low noise level.
Salient Features of Transformers
Designed For Good Performance, Safety And Economy


High Quality Lamination and conductors.


Sheet Metal Enclosures as per required ip class of protection on request.


Impregnated with international quality resigns and varnishes.


Incoming components and material inspected before use.


Products warranted against manufacturing defects.